| | |
| --- | --- |
| CAS Corporation, an ISO 9001 company, is a leading global manufacturer of industrial and commercial scales distributed through a worldwide network of independent scale distributors in more than 120 countries. | Since its inception in 1983, CAS Corporation continues to provide reliable, affordable and superior delivery of high quality products that meet almost any weighing need. |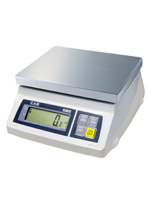 SW-5 SW-10 SW-20 SW-50
Compact in design and easy to use portion control scale for use in a variety of applications. AC or battery operated Legal for trade (SW Only). Use in restaurants, specialty stores, farmer's markets and more!
Platter Size

9.05(W) x 7.48(D) / 230(W) x 190(D)

Dimensions
10.23(W) x 11.29(D) x 5.39(H)
260(W) x 287(D) x 137(H)
Full Body Protective Cover Included

Legal for Trade (SW Only)
Specifications

5, 10, 20, and 50 lb capacities
Battery or AC Operated
SW & SW-Z - lb/g/kg/oz switchable
SW-Z - lb:oz Decimal & lb:oz Fraction Modes
Large Easy to Read 1"" LCD Display
Stainless Steel Platter
OPTIONS
Rear Display
Full Body Protective Cover
Large Platter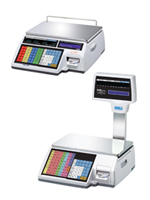 CAS Models CL5000 B and R Label Printing Scale
The CL 5000 B and R comes with 50 preset common label formats stored in memory. Up to 2 more custom label formats can be added using the label editing function of the CL - Works software program. Various die cut or continuous label sizes up to 120 mm in length can be used.
The CL - Works software program allows you to create and edit PLUs, program store information, design custom labels and unique keyboard layouts and much, much more.
The CL 5000 is offered with or without a pole display. The CL 5000 B is sans the pole display.
Key Features
60 lb capacity dual range
Standard 3,000 PLU's and 1,000 Ingredients / Optional 10,000 PLU's and 1,500 Ingredients
Speed Keys for all 3 models
50 standard label formats / Up to 20 custom labels
High speed thermal printer
Flash ROM for easy firmware upgrades
Multiple barcode formats
English, Chinese, Korean or Spanish characters
Menu code system
CL-Works software package included
Technical Data
Weighing Capacity: 60 lb dual range

Display Type: VFD and Alphanumeric

Weight Units: Lb or kg

Printer: Thermal Print

Label Size: 40mm - 60mm width x 30mm - 120mm
length

Barcode Formats: UPC, UPC 13, EAN13, EAN13 + 5,
12 of 5, and more

Interface: RS-232C

Keyboard Interface: PS/2

Power Source: AC 100-240V, 50/60 Hz

Operating Temperature: 14 degrees F -
104 degrees F

Platter Size: CL5000 B/R 15" (w) x 9.6" (d)

Dimensions: CL5000 B - 16" (w) x 17" (d) x 6.8" (h)
CL5000 R - 16" (w) x 17" (d) x 23.9 (h)

Unit Weight: CL5000 B is 24 lbs and CL5000 R
is 25 lbs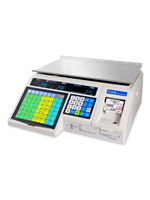 CAS LP-1000N Label Printing Scale
The LP-1000N is the best scale on the market todayin its class. A feature rich, easy-to-use label printing scale. With its ability to use the most popular label formats, the LP-1000N will be perfect for deli's, convenience stores, grocery stores, etc.
Key Features

4,000 PLU's (Items)

1,000 Ingredient Messages

54 Preset Keys

30 Label Formats plus 6 Custom Labels

Continuous Strip Label

Pre-Pack Mode for Automatic Weighing/Labeling

High Speed Printer

Print Label with Backing Paper

Net Weight Statement

Spanish Printing

Includes - LP Works software

RS-232C 25 to 9 Pin Cable

Legal for Trade - COC #92-169
Specifications
Weighing Capacity: 30 x 0.01 lbs

Display Digits: 5/6/7 (Weight/Unit Price/Total Price)

Display Type: VFD (Vacuum Fluorescent Display)

Measurement Type: Load Cell

Printing Type: Thermal Print

Preset Data: 4,000 PLU< 1000 Ingredient Msgs (50 char x 8 lines)

Data Transfer: PC to Scale, Scale to PC, Scale to Scale

Label Size: 58 x 30 mm - 58 x 100 mm

Power Source: AC 110/120/220/240V, 50/60 Hz

nterface: RS-232C

Power Consumption: Max. 100W

Operating Temerature: 14 F - 104 F

Platter Size (inch): 15.75 (w) x 9.65 (d)/400 (w) x 245 (d) NP: 15.75 (w) x 9.65 (d)/400 (w) x 245 (d)

Dimensions (inch): 16.1 (w) x 16.9 (d) x 7.8 (h) NP: 16.1 (w) x 19.3 (d) x 23.6 (h)

Product Weight: 28.66 lbs
Options

Fish Platter: (17 (w) x 11.25 (d)

Keypad Wet Cover

RS-232C 25 to 25 Pin Cable (Scale to Scale)