EQUIPMENT: HICKORY INDUSTRIES

Hickory Industries, Inc. was established in 1946 and since that time has been manufacturing commercial, rotisseries for the industrial market. It has been operating out of a 46,000 square foot facility in North Bergen, New Jersey since August 1994. Hickory was founded in 946 by Martin Kalman and, under his direction, Hickory produced products ranging from rotisseries and warmers to stainless steel work tables.

A new corporation was formed in October, 1978 which purchased the assets and the name of the old corporation. Hickory Industries was aquired by Steven Maroti as President and Aniko Heller as Vice-President and Secretary.

Under new ownership Hickory Industries marketed its first counter top model, the 5.5, in 1982. The 5.5 was designed to target convenience stores, small operations and grocery stores that had limited space. The 5.5 model is currently Hickory's number one selling model rotisserie.

In 1992 Hickory introduced it's model 7.7, a batch rotisserie with pull out material handling tables and a rear "show burner" for improved merchandising. This unit is offered in both gas and electric models.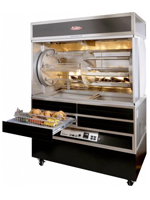 Hickory Model 7 Gas Batch Rotisserie
Hickory's Model 7.7 Rotisserie is our largest batch cooking model, and has been designed with a 360 degree merchandising characteristic. The 7.7 is the right application for those restaurants and prepared food establishments that want to highlight their freshly prepared rotisserie products. The 7.7 can optionally use a combination of woods such as mesquite, hickory, oak or charcoal, in combination with infra-red gas burner/generators, to assure even and consistent cooking. The Model 7.7 uses a double rotational planetary drive system to assure the utmost product quality. An optional rear fireplace burner can be used with ceramic logs or infra-red ceramics to simulate an eye-catching open hearth merchandising effect.
Cooking: The unit has the versatility to operate as two separate cooking areas to allow for staggered batch timing, or to allow for the preparation of different products without co-mingling the individual product flavors. Thermostatic controls enable automatic temperature activation of the infra-red gas generators, and assure that the gas burners will ignte when the cooking temperature falls below a prescribed setting. In less than 12 square feet the 7.7 can accommodate 56 chickens per batch and cook them to perfection in less than 1 hour. The 7.7 will also accommodate turkeys, roasts and ducks. Optional attachments are available to cook product that cannot easily be placed on a spit.
Merchandising: The interior cooking area is fully illuminated with angled floor lighting. 90% of the exterior surface of the cooking compartment can be covered with heat resistant tempered glass to allow for a fully unobstructed view of the roasting product. The unit can be optionally configured for pass-through applications. The 7.7's best viewing position is in the center of an establishement to allow for consumer vistas from all side.
Model N/7.7G
Standard Features
42 - 56 bird capacity (3-1/2 - 4 lb +)
Rear wall of flame for full merchandising of product
Front sliding glass doors for full view of product
Double rotation for genuine rotisserie cooking (drums and spits rotate)

Dual cooking chambers have separate thermostats to allow different temperatures and products
Allows combination of spits and rotating baskets to be cooked simultaneously
Foot pedal allows stopping of the motor for easy loading and unloading
Water drip trays for humidified cooking
Front lighting enhances the appeal of cooked product
Technical Data
Cooking Type: Batch

Gas Type: Natural or LP
Supply Voltage/Amp: 120V / 60 Hz / 5A

Lights / Wattage Each / Total Lighting Wattage: 2 / 90 / 180
Gear Motor HP: 1/ 25

Digital Timer Wattage: 5
Total BTU's Natural / Propane: 180,000 / 180,000
BTU's - Burner Natural Gas / # of Burners: 40,000 / 4
BTU's - Burner Propane Gas / # of Burners: 40,000 / 4

Back Show Burner: 20,000
Nominal Gas Pressure in WC' Natural / Propane: 5-1/2" / 11"
Gas Connection (male end required): 1"
Net Weight: 900
Dimensions: 35" x 56" x 79"

Spits / Distance Between Spits: 14 / 7-7/8"
Chicken Capacity: 42 - 56
Clearance From Side Walls: 3"
Clearance from Rear Wall with Steel Back: 3"
Clearance off Rear Walls with Glass Back: 15"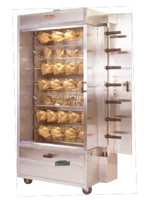 Hickory Model 7 Gas and Electric Continuous Rotisseries
Hickory's Model 7 is perfect for the medium to large sized retailer. Hickory's unique, rotating spit method of barbecuing yields an evenly cooked, self-basted, moist and tender product, in a way that "lazy-susans" and standard trays cannot. Hickory's barbecue ovens, with their stainless steel construction have developed a reputation throughout the food industry for profitability, reliability, merchandising capability, and long service life. The small frame of the Model 7 and large merchandising area provide limitless profit opportunities. The unit features 7 spits with a capacity of 35 chickens per hour.
Cooking: All of Hickory's vertical rotisseries offer the choice of "batch" or "continuous cook" roasting. In batch cooking, the unit is loaded from bottom to top, and then unloaded from top to bottom, providing the lowest spit with the most cooking time.
Hickory's "continuous cook" process is the most reliable method to deliver freshly cooked product to the consumer. The spits are loaded from top to bottom. Since heat's natural tendency is to rise, the top spit finishes cooking first and is removed. Each successive spit is then moved upwards one position, and an uncooked spit is added to the bottom of the rotisserie. The retailer can now deliver freshly cooked and delicious product to each customer, because the "continuous cook" methodology allows the rotisserie's production to correspond to demand.
Merchandising: Hickory's gas-fired rotisseries feature uniquely designed ceramic radiants which yield a truer barbecue appearance and taste. The self-merchandising, eye-catching display of rotating and roasting product is visible through large glass doors, and stimulates consumer appetites to generate increased impulse sales. The large glass face of the Model 7 makes it an excellent merchandising tool and features single-sided merchandising for "against-the-wall" placement.
Model N/7G (Gas)
Standard Features:
Side hinge cover - covers gas components for a clean look
Continuous cooking

Large wall of product merchandising
Individual gas control per burner
Large drip pan for catching drippings
Safety wire grid on bottom of rotissiere
Gear mechanism out side of heat and grease zone
Technical Data
Cooking Type: Continuous
Power Supply: Gas
Supply Voltage (NEMA 5-15P Provided): 120 V

Lights / Wattage Each / Total Wattage: 2 / 150 / 150
Motor HP / RPM / Full Load Amps: 1/3, 1725, 6.8
Amperage @ 120 V: 8
BTU's Natural / Propane: 120,00 / 87,000
BTU's per Burner - Natural Gas / # of Burners: 40,000 / 3
BTU's per Burner - Propane Gas / # of Burners: 29,000 / 3
Vent Openings: 8-3/4" x 15-7/8"
Normal Gas Pressure Natural / Propane: 5-1/2" / 11"
Gas Connection (male end required): 3/4"

Single Faced Ceramics Per Burner / Total: 9 / 27
Dimensions: 45-1/4" x 25-1/4" x 52-7/8"
Chicken Capacity 2-1/2lb - 4 lb: 28 to 35
Model N/7E (Electric)
Standard Features:
Continuous cooking
Large wall of product merchandising
Individual gas control per burner
Large drip pan for catching drippings
Safety wire grid on bottom of rotissiere

Gear mechanism outside of heat & grease zone
Technical Data
Cooking Type: Continuous
Power Supply: Electric
Supply Voltage: 208 - 240
Phase/Frequency (special voltages available): 3+N / 60 Hz
Lights / Wattage Each / Total Lighting Wattage: 1 / 150 / 150
Motor HP / RPM / Full Load Amps: 1/3 / 1725 / 6.8
# Elements / kW Each / Total Element kW: 6 / 2.5 / 15

Amperage - 3 Ph @ 280V (5 Wire): 50
Dimensions: 38-1/4 x 21-3/4" x 49-1/2"
Chicken Capacity 2-1/2 lbs - 4 lbs: 28 to 35