EQUIPMENT: TALSA

TALSA is a world leader within the food industry, in the manufacturing of average capacity, quality food processing machinery.

Four generations of the Belloch family have served in this field with what began as a small mechanical workshop in the year 1900, in order to give service to the electrical industry. It has developed into an efficient infrastructure within the sector, through the philosophy of constant improvement and attention to detail, for the benefit of its customers.

The new CE TALSA range of machines introduced during 2002 to 2011 fits the new and demanding European health and safety standards. This is a direct result of its hundred years of industrial experience, including more than 80 years in food and meat processing; it is also recognized by the Exportation Award granted by the Chamber of Commerce of Valencia, Spain.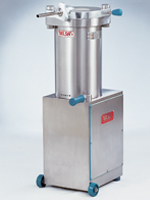 Hydraulic Fillers/Stuffers
15, 20, 26, 31, 42, 52 LITERS
High pressure suitable for dense and cold mixtures
Speed control knob situated near the operator for precise adjustment.
Release of the knee lever causes piston decompression and instantly stops the product flow.
Comfortable knee lever operation allows the user to keep hands free.
Double sealed piston (except H42/H52), easily removable.

Separate hydraulic oil reservoir.
Wheels and handle for easy movement.
Easy cleaning.
Three standard s/s nozzles/horns ø 12, 20 & 30 mm.
Robust, machine rounded fixed meat barrel with easily removable piston.
Automatic lid lock without handles.

Pressure gauge.

MODELS A-automatic
Automatic motor-pump, start and stop by
micro-switch when the knee lever is pressed.
Water resistant electrical unit.
MODELS "i"-switch
Manual start and stop switch.

OPTIONS
"M"-Single phase machine.

Special nozzles/horns.

Manual portioning device PH500.